The Black Women Film Network (BWFN) will host its annual short film festival virtually on Saturday, October 10, 2020, in partnership with Black-owned streaming service KweliTV. For 24 hours, viewers will be able to watch the 2020 festival selections online at Kweli.tv or through streaming devices and smart TVs. Tickets to access the virtual festival can be purchased HERE. "The short films we've selected showcase the breadth and depth of Black women's stories around the world and our storytelling capabilities," says Jaunice Sills, Chair of BWFN. "Each short was directed by, produced by, written by or starring a black woman. We are excited to present these stories on the Kweli TV platform – a digital space intentionally created by a Black woman, DeShuna Spencer, who wanted to bring truth to power as it relates to content. At this moment in time in our history – it is critical to recognize Black women's art, influence and our stories that matter."
The following are the shorts that will screen at the Black Women Film Network Short Film Festival:Â 
Hit the Road
Based on director Maya Table's true story, Hit The Road puts a lively spin on the devastating breakup of longtime couple Penny and Stan. Fueled by their competitive nature, Penny and Stan, played by Brianna Butler and Jared Wofford, engage in a battle of the sexes vying for the last word.
An incredibly skilled producer and budding director, Maya Table acts as the executive producer of her production company, Sam Frank Productions, named after her grandfather. Her recent production credits include producing Janelle Monae's "Make Me Feel" music video, Travis Scott's "Sicko Mode", Apple and Odesza, Teyana "Gonna Love Me" and Summer Walker "Girls Need Love". As well as directing commercials for Atlanta's Hartsfield Jackson International Airport and Make-A-Wish. She recently added "film director" to her title, having directed the "Reclaiming Nappy" documentary which was featured on Facebook Watch last month and at Facebook's 2019 Sundance Festival panel. As well as the "Dating App" short film which was selected as Issa Rae's May 2019 short film of the month.
Watching the Storm
Director -Â Sheena D. Carter
Following the Baltimore Uprising of 2015, African American Horologist Steven Richardson returns to his hometown to help foster the city's youth by cultivating the next generation of watchmakers.
Producer, and rising Filmmaker, Sheena D. Carter has thrived for over 10 years in, film, television, and creative media. After many years of working in Production, Sheena eventually went on to land a role with Viacom Media Networks where she contributed to the BET Original Programming division coordinating for scripted series. In 2014, she ventured to the Nation's Capital to join a team of award-winning creatives at Long Story Short Media developing and producing short-form content for major nonprofits and global brands collaborating with some of the world's top leaders in brand and media innovation.
The Erasure 
Director – Akeallah Blair
This thriller film is sort of like 'The Purge', and for one weekend out of the year Black women and girls go missing. This fictional film is inspired from a real statistic, that 64,000 Black and brown women and girls go missing in the United States every year and only a fraction of their cases are investigated. The rules for the Erasure weekend is that there cannot be any police involvement or media coverage of the missing women. In this world there is a 'safe haven', a neighborhood known as Fontier Hills. This year the audience goes on a journey with three Black women that live in this safe haven and shows what happens to them when The Confederate goes beyond their boundaries to capture them.
Akeallah Blair is from the kind-hearted city of Sacramento, California.  Akeallah received the Bill and Melinda Gates Foundation Scholarship and she was granted admission into the University of Southern California's film school. The Gates scholarship provided a full-ride tuition and paid for her to study abroad for a semester in Spain. Akeallah had several internships throughout college at big companies like: Vh1, BET Networks and NBC. After graduating college in 2016, she has worked on major television and film sets as a Production Assistant. Akeallah continues to fight on to her dream of becoming a director. In 2019, she wrote and directed the short film 'The Erasure' , which she raised over $10,000 through crowdfunding. She is currently assisting writer/director John Lee Hancock. In addition to working a full-time job she continues to write her next projects.
Steve
Executive Producer/Writer/Star – Amber Iman
If grinding in the bustling streets of NYC isn't enough for a Broadway actress, an uninvited 'guest' in her apartment might be just the thing to put her over the edge.
Amber Iman made her Broadway debut as the High Priestess of Soul, Nina Simone, in Soul Doctor, earning rave reviews and a nomination for the prestigious Clive Barnes Award. She then tackled the role of 'Aldonza' in Man of la Mancha at the Shakespeare Theatre Company in Washington, DC, receiving the Emery Battis Award for Acting Excellence & a Helen Hayes Award nomination for Outstanding Lead Actress in a Musical. In Spring of 2016, Amber returned to Broadway in Shuffle Along, Or, The Making of the Musical Sensation of 1921 and All That Followed. The show, nominated for 10 Tony Awards, was written and directed by George C. Wolfe, choreographed by Savion Glover, and boasted an all-star cast of Audra McDonald, Brian Stokes Mitchell, Billy Porter, Joshua Henry, and Brandon Victor Dixon. Marking her first national tour, Amber played 'Peggy Schuyler/Maria Reynolds' with the 11-time Tony Award-winning smash hit Hamilton. She had a blast as 'Cheryl' in the star-studded, limited run of Little Shop of Horrors at the John F. Kennedy Center for Performing Arts in Washington, DC.
Home Room
Shae, an eighth-grader, prepares for her high school admissions presentation while navigating a night on the street.
Tony Fair has been inspired to tell stories for most of his life. As a Harlem-based filmmaker, he is interested in using film to promote advocacy and attention to systemic issues impacting voiceless communities. As a screenwriter, Tony is passionate about storytelling that focuses on social and economic issues such as; immigration, homelessness, education, entitlement programs, institutionalized racism, and police brutality. Tony has studied at New York University's School of Professional Studies, Jacob Krueger Studio, and the Upright Citizens Brigade New York Training Center. He has been writing, acting, producing and developing his storytelling for over 15 years.
Honeymoon
Honeymoon tells the story of a newlywed couple on their first night together, made all the more awkward, romantic and honest, because they only just met.
Amy Aniobi is an Executive Producer on HBO's groundbreaking comedy, "Insecure," starring Issa Rae. She also served as head writer/EP for season one of HBO stand-up special "2 Dope Queens," and she has multiple projects in development, including three studio features, a limited series at HBO starring Laura Dern and Issa Rae and another TV project developed with Reese Witherspoon's Hello Sunshine. Amy recently directed the short film, "Honeymoon." She also co-created, co-directed and starred in the web series, "Lisa and Amy Are Black," created and directed episodes of the web series, "The Slutty Years" and wrote for both seasons of the hit YouTube series, "Misadventures of Awkward Black Girl."
Emerger
Khadjou Sambe was the first woman to surf in her hometown of Dakar, Senegal. In doing so, she emerged from a patriarchal system to become an icon for black women surfers everywhere and pave the way for the next generation.
Black Girls Surf supports girls/women whose career goals are competing in professional surfing. Through fundraising efforts, we have been able to send athletes to compete and train with professionals to ensure that they are prepared. Under BGS, participants will have an opportunity to train with world-class surfing professionals.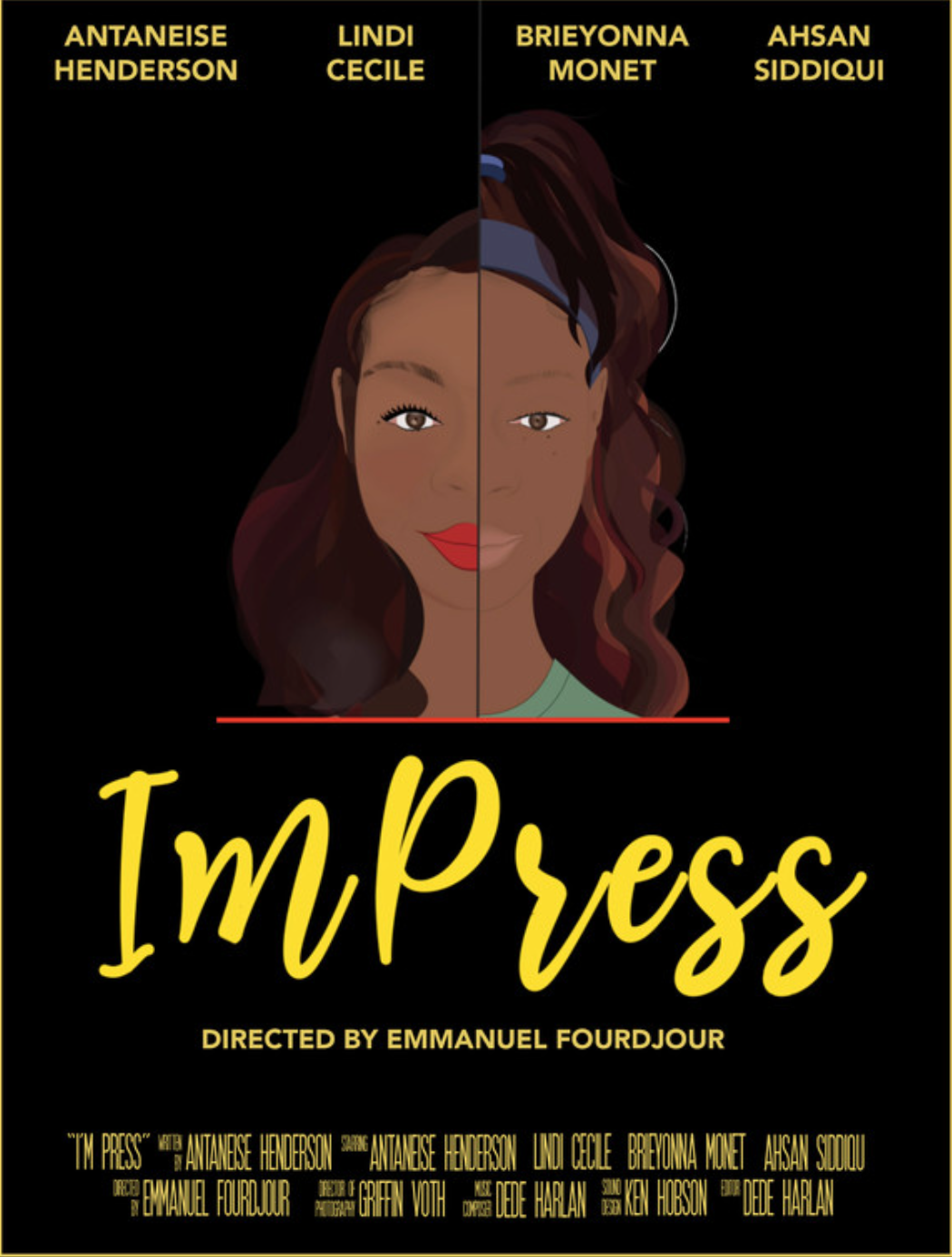 I'm Press
Starring: Antaneise Henderson 
Presly Jones, a beautiful yet insecure environmentalist goes on her first date in a very long time. With the help of her best friends, Presly gets two ear fulls of advice during the date and soon realizes the extra assistance may be more problematic than depending on herself alone.
Antaneise Henderson is an African American alum at NYFA: graduate of the Acting for Film, MFA program. At the academy, she had the opportunity to train under the wing of Ayelet Zurer, where she gained substantial growth as an actress and confidence after being selected by Zurer herself. Antaneise is an ex-gymnast who trained and competed in high-level gymnastics and now teaches as a gymnastics instructor for children's recreational gymnastics in Burbank. Antaneise feels blessed to have had the amazing experience of entertaining crowds as an LA Clipper's cheerleader for the past three NBA seasons. She is a trained singer, dancer, actress, and a current evolving writer. Creating and telling stories is a big passion of hers and she chooses all forms to do so! Although she graduated less than a year ago, she is back in school for MFA screenwriting. In her favorite class, she is currently writing a Christmas Movie and couldn't be more excited about it. " It's always been a dream of mine to be in a Christmas movie. Why not star in my own ?
"
#TransitProblems
Witness typical bus and subway/train issues within the city.
Casby Bias is a video producer, director, communications professional, trainer, public speaker and entrepreneur. As the founder of See Bias Productions, she creates animation and live-action explainer videos, web series, promotional material and video diaries for clients.
Casby graduated with her bachelor's degree in Journalism from Marquette University in 2014. She later received her master's degree in television, radio and film from Syracuse University.
Afro
Director – Jenn Shaw
After multiple encounters with her bully and a little academic inspiration, an African-American teen girl finally stands up for herself against classmates that question her cultural identity.
Jenn Shaw is a New York City-based filmmaker raised in the beautiful bluegrass of Lexington, Kentucky. She has directed several short scripted films exhibiting at major festivals including the American Pavilion Showcase at Cannes, Big Apple, Orlando, and Hollywood Black. Jenn was an award-winning producer at ESPN CreativeWorks until mid- 2015. Her film $"15 Kicks", executive produced by legendary filmmaker Spike Lee, won a Black Reel Award as Best Independent short film. In 2017, she was nominated for an American Pavilion Emerging Filmmaker Award at Cannes Film Festival and was selected for Shoot Magazine's New Director Showcase. In addition, her feature film script "Lollies" was a second-round finalist for Sundance Writing Fellows and finalist for Issa Rae and Paul Fieg's 2019 Teen Movie contest. 
She is a freelance director for clients such as Harper Collins, Korbel, McGraw Hill, Complex, and NFL Network. Within the last two years, she directed a digital series Football Town and an hour documentary "The Superbowl That Wasn't" for NFL Network. Recently, she completed a contract producing and directing content for RYOT Studios in NYC. She also directed and produced an animated series for Harper Collins that will premiere on Facebook in June 2020. Currently, she is participating in IFP's 2020 Episodic Program with her pilot and series, "Afro."
Junebug
At 28, Junie is a writer, obsessed with capturing the essence of her childhood growing up with her musician father, Davis. Davis, an alcoholic drummer with an infectious charm and an unending tenderness for his daughter is proving difficult to put into words. As Junie struggles to articulate Davis in her writing and to her boyfriend Calvin, she's transported back in time through her own memories of him. How do you explain someone impossible to love and impossible not to? JUNEBUG is an exploration of the fierce love between a daughter and father, the complexities of an absence that words can't touch, the power of music, and the wonderland of memory.
Winter Dunn is an award-winning producer, director and actress. She produced her debut feature film, JEZEBEL which premiered at SXSW 2019 and was awarded Best Narrative Feature at the American Black Film Festival that same year. JEZEBEL has been acquired by Ava DuVernay's ARRAY and is currently streaming on Netflix. In her day to day, Winter produces and directs celebrity editorial content at Conde Nast Entertainment. Her work has accumulated over 30 million views and counting. She has directed multiple web series including, PLATONIC which premiered at ABFF and is currently streaming on the NBC Watchback app. Winter continues to be seen as an actress in film and television and is based in Los Angeles, CA.